What is a Dam?
A dam is a barrier that stops the flow of water and results in the creation of a reservoir. They are used to increase the amount of water available for generating hydroelectricity and to reduce peak discharge of floodwater created by large storms or heavy snowmelt, or to increase the depth of water in a river in order to improve navigation and allow barges and ships to travel more easily. Dams can also provide a lake for recreational activities such as fishing, boating, and swimming.
The earliest known dam is the Jawa Dam in Jordan, dating to 3,000 BC.
Different Types of Dams
Based on the Structure, Dams can be classified as follows:
1.
Embankments Dam
- An embankment dam is a type of dam in which more than 50 % of the total volume is formed of compacted earth material generally smaller than 3-inch size. It has a semi-pervious waterproof natural covering for its surface and a dense, impervious core.
2.
Arch Dams
- An arch dam is a concrete dam that is curved upstream in the plan. It is designed so that the hydrostatic pressure (force of the water against it presses against the arch, causing the arch to straighten slightly and strengthening the structure as it pushes into its foundation or abutments.
3.
Earth-fills Dams-
Earth-fill dams are also known as Earthen dams, Rolled-earth dams or simply Earth dams, and they are constructed as a simple embankment of well-compacted earth. A homogenous rolled-earth dam is entirely constructed of one type of material but may contain a drain layer to collect seep water. A zoned-earth dam has distinct parts or zones of dissimilar material, typically a shell of locally plentiful material with a watertight clay core. Modern zoned-earth embankments employ filter and drain zones to collect and remove seep water and preserve the integrity of the downstream shell zone.
4.
Gravity Dam-
This dam is constructed of concrete or stone masonry, which relies on its weight for stability are known as Gravity Dams. A gravity dam built up of boxes crossed timbers or gabions filled with earth or rock. A concrete gravity dam is constructed by the use of a dry mix of concrete transported by conventional construction equipment and compacted by rolling. These are designed in such a way that each section of the dam is stable and independent of other sections.
5.
Arch-Gravity Dam-
A gravity dam can be combined with an arch dam into an Arch-gravity dam for areas with massive amounts of water flow but less material available for a pure gravity dam. The inward compression of the dam by the water reduces the lateral (horizontal) force acting on the dam. Thus, the gravitational force required by the dam is lessened, so that the dam does not need to be so massive. This enables thinner dams and saves resources.
6.
Rock-fills Dam-
Rock-fill dams are embankments of compacted free-draining granular earth with an impervious zone. The earth used often contains a high percentage of large particles and hence it is termed as "rock-fill". The impervious zone may be on the upstream face and made of masonry, concrete, plastic membrane, steel sheet piles, timber, or other material. Rock-fill dams are resistant to damage from Earthquakes.
7.
Concrete-face Rock-fills Dams-
A concrete-face rock-fill dam (CFRD) is a rock-fill dam with concrete slabs on its upstream face. This design provides the concrete slab as an water-resistant wall to prevent leakage and also a structure without concern for uplift pressure. Also, the CFRD design is flexible for topograph and faster to construct. even they are less costly than earth-fill dams. The CFRD concept of Concrete-face rock fills dams was originated during the California Gold Rush in the 1860.
8.
Barrages-
A barrage dam is a special kind of dam that consists of a line of large gates that can be opened or closed to control the amount of water passing the dam. The gates are set between flanking piers which are responsible for supporting the water load, and are often used to control and stabilize water flow for irrigation systems.
Some Important Dams in India:
1. Highest Dam in India-
Tehri Dam (Uttarakhand)

Tehri dam - the highest dam in India
-Height: 260.5 meters
-Length: 575 meters
-River: Bhagirathi River
-Year of completion: 2006 (1st phase)
2. Oldest Dam in India-
Kallanai Dam (Tamil Nadu)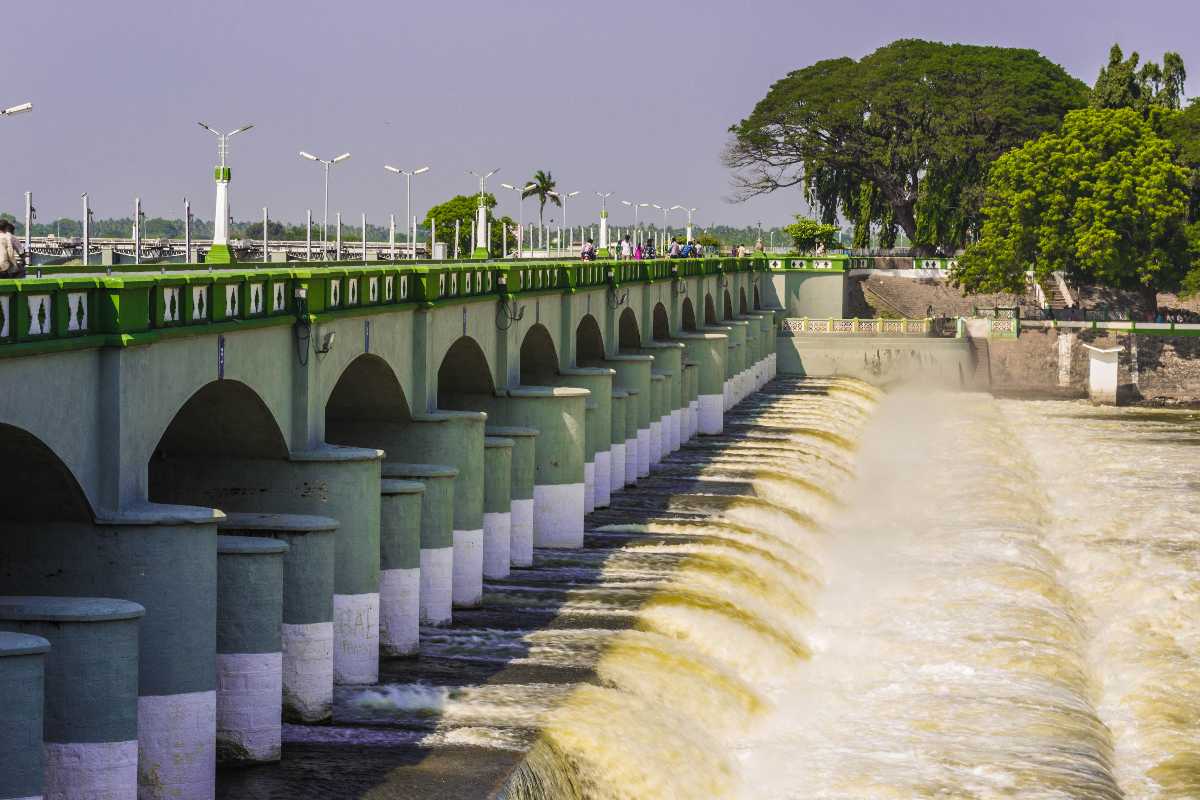 Kallanai Dam the oldest dam in India and 4th oldest in the world (image credits © www.holidify.com)
- Built in the River: Kaveri
- Location: Tamil Nadu
- Year of completion: 100 BC –100 AD
3. Longest Dam in India-
Hirakund Dam (Odisha)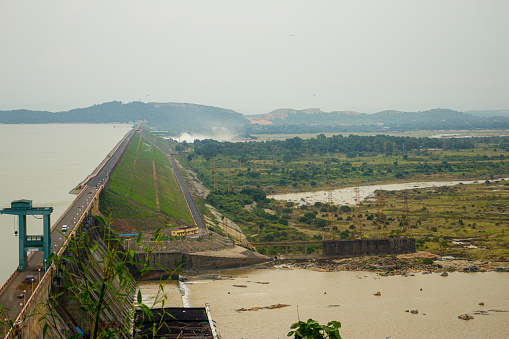 Hirakud dam is built across the Mahanadi river it is the longest dam (© media.istockphoto.com)
-Total Length: 25.79 km (16.03 mile)
- Length of Main Dam : 4.8 km (3.0 mile)
- River: Mahanadi
- Year of completion: 1953
List of Major Dams in India
| Major Dams | State | River |
| --- | --- | --- |
| Tehri Dam | Uttarakhand | Bhagirathi |
| Bhakra Nangal Dam | Punjab-Himachal Pradesh Border | Sutlej |
| Hirakund Dam | Odisha | Mahanadi |
| Nagarjuna Sagar dam | Telangana | Krishna |
| Sardar Sarovar Dam | Gujarat | Narmada |
| Cheruthoni Dam | Kerala | Cheruthoni |
| Indira Sagar Dam | Madhya Pradesh | Narmada |
| Krishnarajasagar Dam | Karnataka | Kaveri |
| Mettur Dam | Tamil Nadu | Kaveri |
| Bisalpur Dam | Rajasthan | Banas |
| Koyna Dam | Maharashtra | Koyna |
| Maithon Dam | Jharkhand | Barakar |
| Rihand Dam | Uttar Pradesh | Rihand |
| Tungabhadra Dam | Karnataka | Tungabhadra |
| Bhavani Sagar Dam | Tamil Nadu | Bhavani |